Fall 2021 Adirondack Adventure
by Lynn & John Salmon <>{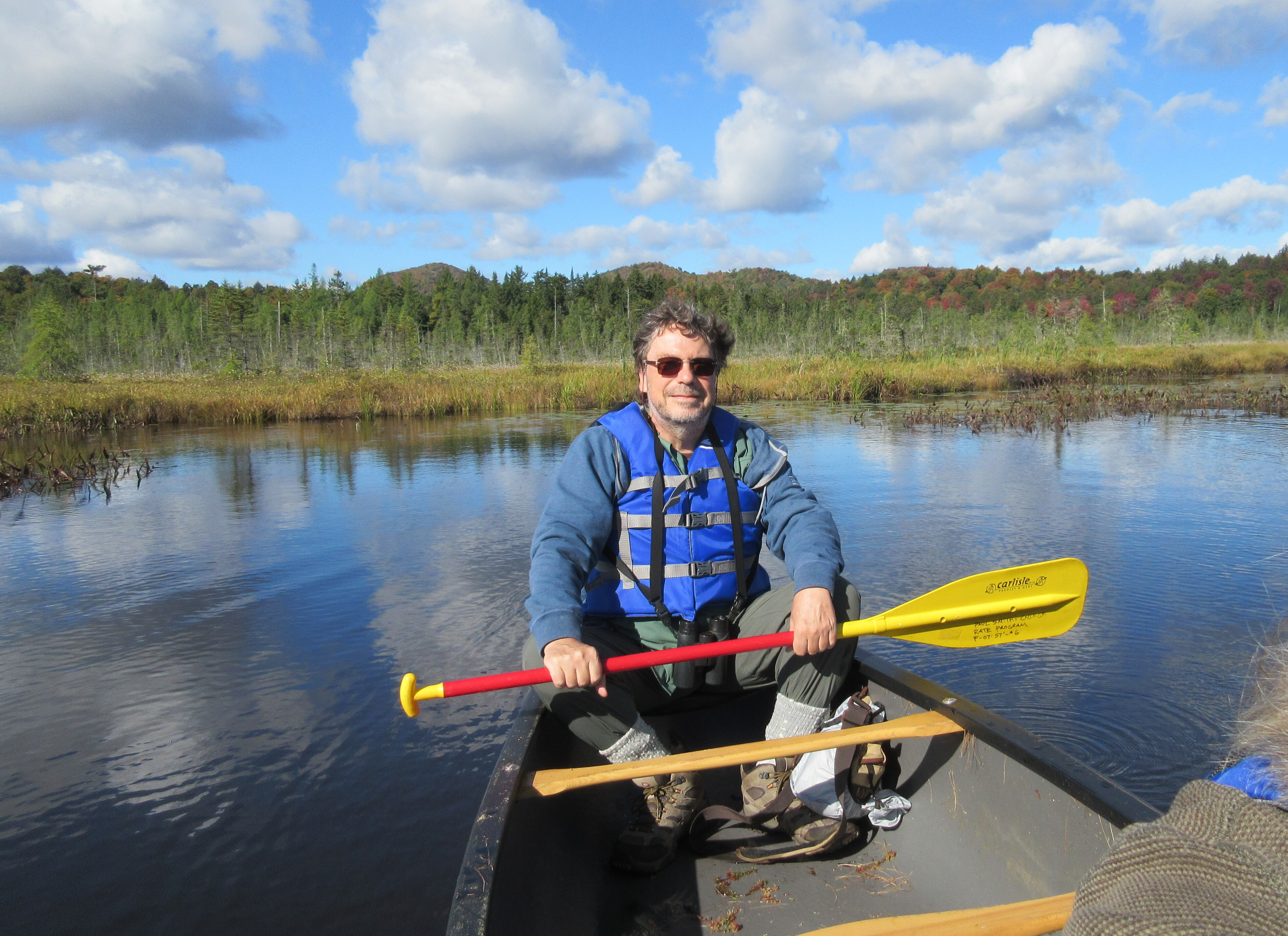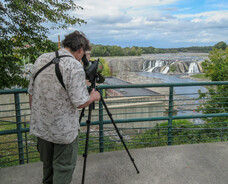 Staying close to home for our first trip since the start of the 2020 Pandemic got us to finally visit the Adirondacks. A wonderful spot for an early fall adventure. We racked up 1407 miles on the car, found 2 new life birds, and 41 geocaches.
We set out with birding and geocaching in mind and did a bit of both at Cohoes Falls, the second largest waterfall in the Eastern US. We were attracted to this spot with a name similar to our Coho Dog. The Cohoes Flats are also mentioned in Kathryn Schneider's Birding The Hudson Valley book which we picked up when she was a guest speaker at one of our Saw Mill River Audubon programs.
There was not much water coming over the falls at the time of our visit, and we scanned the mudflats with our birding scope. There was one eagle standing nearby eyeing the many resting ducks. An informative Earth Cache, a Geocaching Adventure Lab, and other geocaches are in the vicinity.
We continued north stopping briefly at the Lock 4 Canal park, before heading to the much favorited Tin Man Geocache. The Tin Man lived up to its 552 favorite points and we enjoyed visiting the Emerald City and meeting the cache owner who has set this up on his property.
Tin Man Geocache GC3JAY4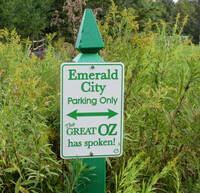 We stopped for the night in Lake George staying at the Surfside on the Lake Hotel where we were surprised to find the town was packed with visitors for a huge Americade Rally. Fortunately, we had a room with a kitchenette allowed us starving people to make some pasta in the room quickly rather than face a long wait for dinner.
British Fort at Crown Point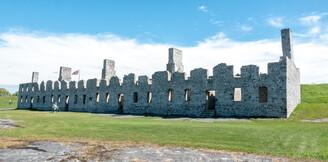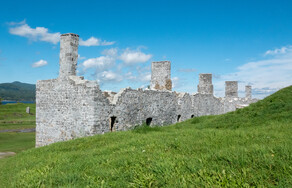 Up early the next morning, we headed to Crown Point State Historic Site. Here you can wander around freely among the ruins of fortifications from the colonial wars between the British and French. The site had 5 geocaches placed as part of the NYS Parks summer challenge. We expected these to be easy finds, but the search soaked up a lot of time and we only found 2 of them.
Crown Point is on the NY/Vermont border, and we drove briefly into Vermont to visit the Deer Creek Wildlife management area. We found one VT geocache at the DCWMA entrance and had a nice drive around. We didn't see much waterfowl, but got to drive across an interesting bridge. We always find these kind of bridges on vacation. See our Fin del Mundo: A Trip to the End of the World for a similar looking bridge.
Lake Placid
Next stop Lake Placid, site of the 1932 and 1980 Olympic Winter Games. Now that we are regular curlers, we've become great fans of the Winter Olympics. We looked into trying the Lake Placid Bobsled Experience, but it was closed, so we instead booked tickets for the cheesy Mt. Van Hoevenberg Cliffside Coaster which runs along side the 1980 bobsled track.
The coaster is "self-driving" which means after the 6 minute trip to the top, you can slow and/or stop it as much as you like along the downhill portion of the ride which takes another 3-6 minutes. Lynn was one of the slow pokes who stopped a few times to take photos on the way down. It was good that John was in front, since he opted for the maximum speed approach for his downhill run.
Lynn is a Curling Silver Medalist and posed on the silver medal platform. Note: there was no curling at either Lake Placid Winter Olympics.
Lake Placid Olympic Fun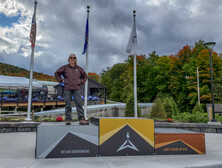 We found a lot to do during the 3 nights we spent in Lake Placid, and we'll definitely make note of the comfortable lodging we had at the Lake Placid Inn Residences for future visits. It was basically a one-bedroom town home with a fully equipped kitchen, comfortable living area, and good WiFi. Also across the street from a grocery and walking distance to some restaurants including the Little Thai Kitchen.
On our first morning, we were up super early for birding at Bloomingdale Bog. We walked the north section of the trail and had success finding a Canada Jay and Red-breasted Nuthatch, birds we don't normally see at home. We also learned that red squirrels make a lot of unfamiliar (to us) chattering sounds that sound like a bird. (red squirrel video)
Next, we headed over to Paul Smith's College VIC. Paul Smiths Visitor Interpretive Center boasts 3,000 acres with 25 miles of trails through woodland and marshland, by ponds, brooks, and bogs. They also offer 2-hour guided canoe trips for only $25 which we booked and returned for on our day 2 visit. Despite our kayaking experience, we lack any talent for canoe paddling. On day one we took a lovely walk and spotted a Salmon Life bird, the Black-backed Woodpecker. We first heard it drumming, then spotted it briefly before it flew off.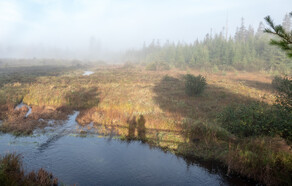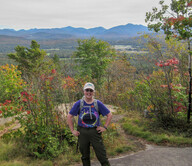 The Cobble Hill geocache has 62 favorite points, and is listed as a terrain 4.5. We definitely wanted to give it a try, but were a little worried about the sections where you need to use ropes to pull yourself up a steep rock climb. While it was steep, it turned out to be a lovely afternoon walk. And, there was a longer, but gentler path that made the route down doable.
Another spot we visited in Lake Placid was John Brown's farm. We have a connection to one of the Brown sons, Owen. In the Altadena foothills, not too far from where we used to live, we once accidentally came upon the site of Owen Brown's grave. It had a marker when we first found it, but that disappeared and the place was left unmarked for over a decade. The gravestone may have been refound. See (Local Altadena History).
John Brown's Farm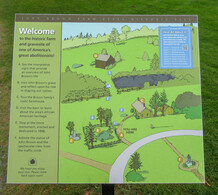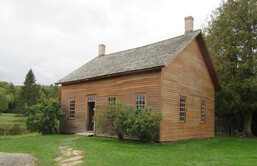 We had one great meal out at the Top of the Park tapas restaurant. Seating was out on the deck, a bit chilly, but with a lovely view over Mirror Lake. Otherwise, we used the convenient kitchen in our apartment for breakfasts and lunches, and made a big batch of chili for one of our dinners.
Tupper Lake
After a rainy morning and a stop at the Well Dressed Cafe for lunch, we arrived at our "camp" on Dugal Rd around 1:30pm. We had chosen a Vrbo rental cabin with mixed reviews, so we weren't sure what to expect, and had tossed the sleeping bags and tent into the car, "just in case". We can see why a couple people reviewing the place were not impressed as we drive in. There are working pieces of farm equipment scattered about the property along with other random pieces of "stuff". The landlords have 2 or 3 cabins, plus an assortment of disabled RVs available for rent spread out on a 1,000 foot river access lot.
Our cabin is what one would expect of a 1960s or 1970s fishing lodge/cabin in the woods in the Adirondacks. I remember staying in a place that looked just like this with my family in the 1960s. There is dark wood panelling throughout with an eclectic mish mash of furniture that one would expect in a second home or rental place. It has a complete kitchen that's been updated to the 1980s or early 90s. The kitchen is well stocked with lots of pots, pans, spatulas, plates, cups, a deep fryer, ice cream maker, and a few mouse droppings.
The inside temperature was 55 when we arrived, but we flipped a switch on the electric panel that made the heat start working. One bedroom lacks a window, but otherwise the cabin came up to a cozy temperature. It also has a screened in porch, canoes, fishing poles, it's right on a river, so is an ideal getaway from it all spot in slightly warmer weather. One thing the place lacks, however, is WiFi, though it advertised it had it. There is limited cell service as well, and no drinking water. But the bed was comfortable, and we slept well.
Sept 28 - all day birding with Joan Collins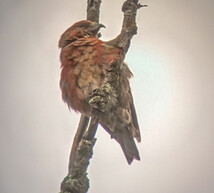 Arose at 4:30am (easy since we went to bed at 7pm) for an all day birding outing with Joan Collins of Adirondack Avian Expeditions. Joan was one of our Saw Mill River Audubon zoom Bird Chat guest speakers earlier this year, and we were looking forward to spending the day with her.
We met her in Long Lake, left our car and drove around with her for the next 11 hours! It was a great day for boreal birding and included 1 life bird, plus great looks at a couple of our other target Adirondack birds.
Our first stop was for a Black-backed Woodpecker which we had had a faint glimpse of a couple days ago at Paul Smiths. Today we saw at least 4 of these birds and even got pictures and (a movie), so it counts as full life bird status now. Seeing the bird required bushwhacking through thick pine forest, but not very far into the forest since we could hear the birds drumming from the road. We got a very good look at the first one, a female, and then found possibly its mate and got a good look at the male with the yellow bit in its crown.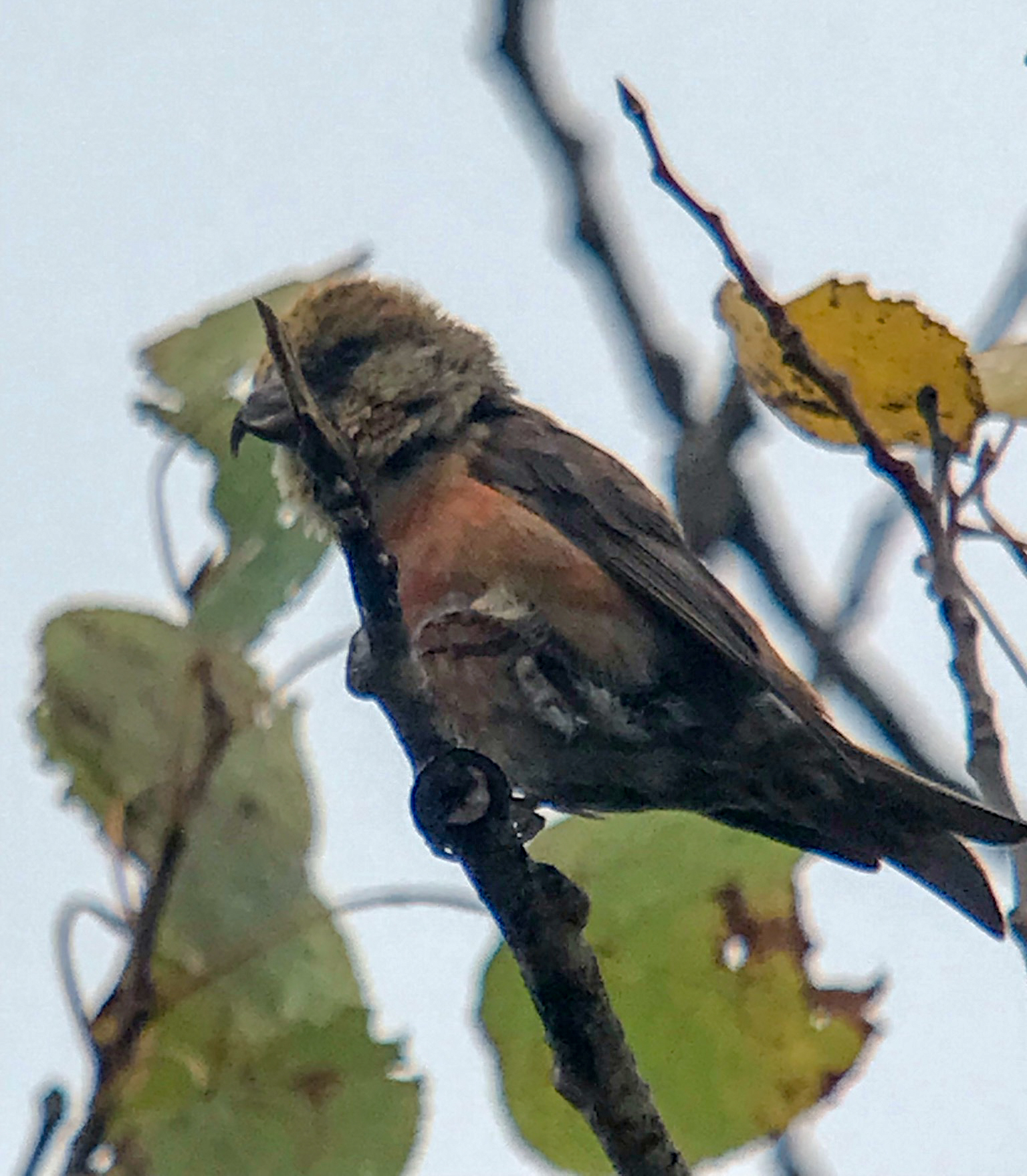 Our next stop was for Red Crossbills, a definite life bird for the both of us. The crossbills were perched next to where we parked to look for them. Having a guide who knows where to find stuff is great! We continued birding in this area taking a walk down a disused railroad track and saw several more interesting things including a couple of rusty blackbirds, a Lincoln's sparrow, pileated woodpecker, and an osprey.
We continued birding, next finding a spot with another bushwhack into the thick boreal forest to see Boreal Chickadees. Lynn was lucky with the patch she bushwhacked into as one of the chickadee came down and perched in a nearby tree - alas John had the camera. He did get a distant look at the chickadee, but only got photos of mushrooms.
We continued birding lots more during the day - it became a bit of a blur. We saw some ducks, a grebe, and other water birds, at Shaw Pond along with several yellow-rumped warblers, and a flock of rusty blackbirds.
Our lunch stop was at ADK Trading Post. We called in the sandwich order on the way and picked them up which worked great. [1601 Tupper Road (rte 30) 518-624-2357]
More birding yielded a great stop for Canada Jays (aka Gray Jays) on Sabots Circle Road. We revisited this spot a couple days later and successfully called in the Gray Jays on our own.
Returned to the room tired as darkness fell, and are happy to have a kitchen to heat up some dinner rather than need to find a restaurant and wait to be served. And, the helpful Vrbo owner removed the cabin's two window AC units while we were out. This greatly improves the room ambiance (better views of the river) and improves the heat efficiency without the gaps around the ACs. It will be another early to bed evening for us.
Up by 5am the next morning, it was great to have a kitchen and be able to cook breakfast early morning rather than being tied to finding a breakfast spot that might not open till 7am.
We took a morning walk up Mt Arab, one of the Tupper Lake Triads. We were the first at the trail head this morning around 8ish. On the way down later we passed several people coming up including what looked to be a school group.
The walk up was relatively easy despite 764 foot elevation gain over 1 mile. The trail is in good shape, and we found 3 geocaches along the way. We had pleasantly cool weather in the low 40s to start, warming to 50 as the day progressed. The top of Mt Arab has a fire tower with excellent views over the area. There was a large flock of cedar waxwings circling and then landing in one of the trees just below the top of the tower while we were up there.
After our hike we came into town and got donuts at the Washboard Donut Shop. It's a laundromat that makes and sells donuts. People were in there doing laundry, others just stopping for donuts.
We enjoyed a couple more days in the Tupper Lake area, but decided it was too cold to venture out in a canoe on the Raquette River. We searched unsuccessfully for White-winged Crossbills on a long walk at Massaweepie Bog. Took a pleasant loop hike around Lost Pond, ate another nice lunch at the Well Dressed Cafe, and a mediocre dinner at a restaurant called Amado.
The Salmon River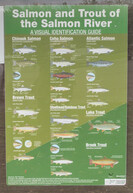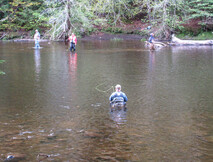 How could we not stop along the Salmon River? I picked out a spot to stop with a Geocache that's been out since 2006. After a short walk, we arrive to see the Salmon River is full of guys in hip waders fishing. There are many other pull offs and many many fishers out in the river. It was near the end of the day at our stop and some guys were leaving with huge fish carried on a pole. They let us photograph them and when John told them his last name was Salmon they had him hold the fish and be photographed too.
We spent a couple nights in the area staying in a very comfy cabin at the K&G Lodge and Deluxe RV park in Oswego. We had a nice meal at a restaurant recommended at check-in, Bistro 197. We enjoyed the experience, but realize afterwards that we are becoming complacent about COVID here. No masks on servers in the restaurant, which was full to capacity. Life seems normal - but maybe it shouldn't.
Salmon River Falls Unique Area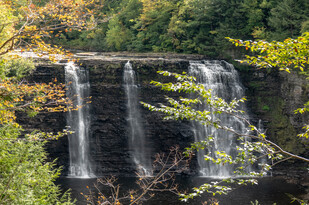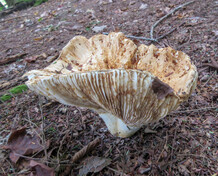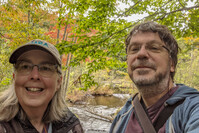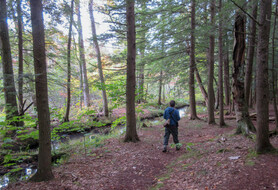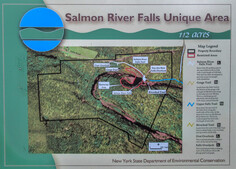 Another must visit spot for The Salmons: the Salmon River Falls Unique area. There are only a handful of NY State Spots that have been designated as "unique areas". We live near one, The Croton Gorge Unique Area.
Salmon Falls are pretty, as are most falls. There's a very steep, slippery path down to the bottom that we opted against and instead took a 2 mile walk along the Salmon River. Yes, there was a geocache in that direction, but it was also a lovely walk. A bit muddy in a few sections.
Fort Ontario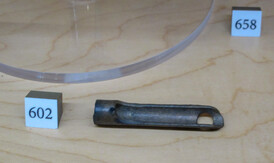 We made an afternoon outing to Fort Ontario. After doing an Adventure Lab that toured the grounds outside and finding one geocache, we paid $4 each to go inside and enjoy the space. There were only a handful of other visitors, so we had the place mostly to ourselves and didn't feel uncomfortable about being inside the museum spaces. One building had an exhibit with 500+ little objects numbered inside display cases. There are Ipads mounted around the room to enter a number and learn about each object. An excellent way to provide this level of information.
Other buildings at the fort included recreated barracks, a mess hall, offices, etc. There was ample information about what fort life was like. We wandered around until closing then headed back to our cabin with a brief stop at St Paul's cemetery for a cute geocache.
Finger Lakes
We wanted to wrap up our trip with a visit to Montezuma National Wildlife Refuge and a couple days in the Finger Lakes area. After a check of the weather showed it would be great today, we got moving early and headed straight for Montezuma to take advantage.
Arriving around 9am at Montezuma, we immediately started spotting shorebirds, dunlins and dowitchers, at our first stop near the visitor center. Here we also had close up views of a couple harriers, plus a lot of geese and ducks. We drove around the nature drive like everyone else, stopping to see a few birds along the way.
Our best birding stop was after the nature drive loop ended and we stopped on East Road overlooking Knox-Marsellus Marsh. Here there were LOTS of birds visible, including 40-50 sandhill cranes, almost that many Great Egrets, geese by the 100s, and many, many distant shorebirds we couldn't really id.
Alas, our hotel in Geneva did not have a kitchenette. But, after a review of top rated restaurants in Geneva, we were able to book dinner reservations at #1 and #3. After an afternoon stroll along the north end of Seneca Lake, we had a fine meal at Edgars in the Castle. Our table overlooked a view of the lake with a wedding party enjoying perfect weather for their nuptials.
It rained on our remaining couple days in the Finger Lakes. We returned to Montezuma NR each day, and mostly birded from the car. We drove along the pothole-filled Tow Path Road, which is more of an alley than a road. John drove slowly along until a view to the marsh we had looked at yesterday opened up. Yesterday we were looking at this area from the north, today we are viewing from the south. The sandhill cranes were in the same place, but today we spotted trumpeter swans, 5 of them!! That was our main goal so we declare it a roaring success!
We tried a few other "birding" areas like the Mud Lock. A lot of people ebirded there on Sept 11, but there wasn't much found on our visit except for 24 cormorants lined up along a wire which seems more the norm for smaller birds. The rain continued, but one final drive around the Montezuma NWR loop yielded coots and gallinules.
Birding Montezuma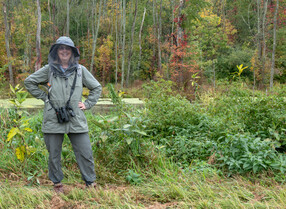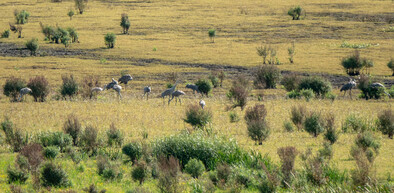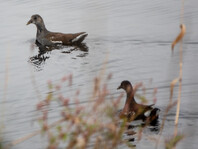 Lynn & John Salmon <>{