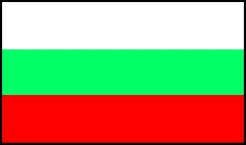 World Heritage Sites in Bulgaria
---
Madara Rider
The scene presents itself on a 100-meter-high cliff in the Madara plateau in northeastern Bulgaria. In a range of cliffs there are signs of human occupation dating back to the third century B.C. The village's most famous sight is the mysterious bas-relief known as the Madara Horseman. It is carved into the rockface, and is so eroded that details are only apparent by the light of the setting sun. The carving is said to represent a horseman whose mount is trampling a lion with the assistance of a greyhound, while he holds the reins in one hand and a wine cup in the other.
---
Boyana Church, Sofia
(42.67 N 23.30 E)

The Boyana Church consists of three buildings. The first church was built on the eastern side in the 10th century. It was enlarged at the beginning of the 13th century by Sebastocrator Kaloyan, who had a second building erected next to it. The frescoes in this second church, painted in 1259, are one of the most important collections of medieval paintings. The third and final church was built at the beginning of the 19th century.
---
Rock-hewn Churches of Ivanovo
(43.8 N 26.0 E)

This is where the first hermits had dug out their cells and churches during the 12th century. The 14th-century murals testify to the exceptional skill of the artists belonging to the Tarnovo school of painting.
---
Thracian Tomb of Kazanlak
(42.62 N 25.38 E)

This tomb dates from the Hellenistic period, around the end of the 4th century B.C. It is located near Seutopolis, the capital city of the Thracian king Seutes III, and is part of a large Thracian necropolis.
---
Ancient City of Nessebar
(42.12 N 27.65 E)

The 3,000-year-old site of Nessebar is situated on a rocky peninsula on the Black Sea. It was originally a Thracian settlement (Menebria). The city became a Greek colony at the beginning of the 6th century B.C.
---
Srebarna Nature Reserve
(44.08 N 27.12 E)

This is a freshwater lake adjacent to the Danube and extending over 600 ha. It is the breeding ground of almost 100 species of birds, many of which are rare or endangered. Some of the more interesting species are the Dalmatian pelican, great egret, night heron, purple heron, glossy ibis and white spoonbill.
---
Pirin National Park
(41.67 N 22.83 E)
---
Rila Monastery
(42.12 N 23.10 E)
---
Thracian Tomb of Sveshtari
---
---
Back to the World Heritage List

Lynn Salmon <>{ Last Updated: August 17, 2015