World Heritage Sites in Sri Lanka
---
Sacred City of Anuradhapura
(8.33 N 80.42 E) --
satellite image
This sacred city was established around a cutting from the tree of enlightenment, the Buddha's fig tree, brought there in the 3rd century B.C. by Sanghamitta, the founder of an order of Buddhist nuns.
---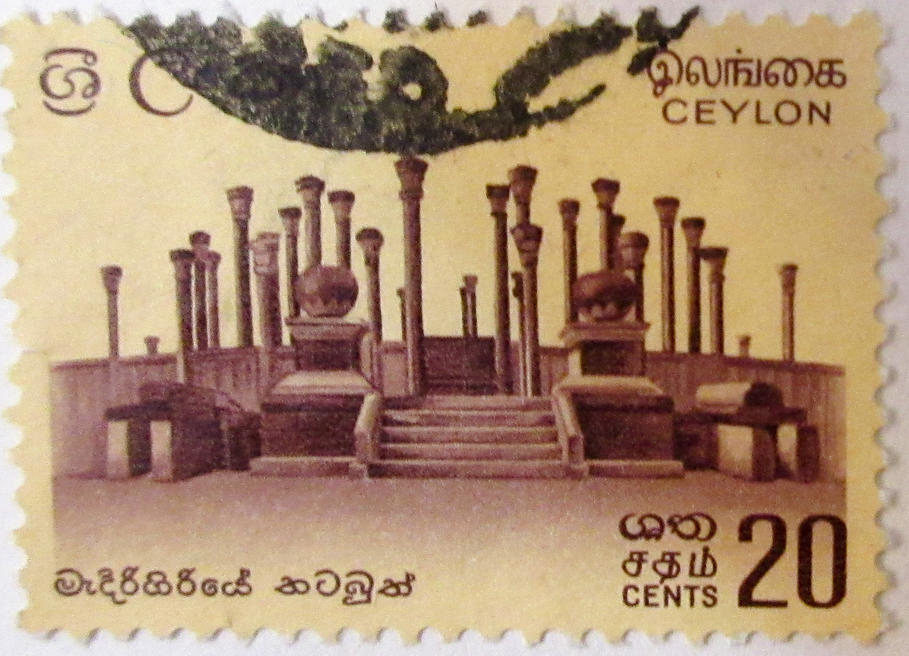 Ancient City of Polonnaruva
(7.916 N 81.00 E) -- satellite image

Polonnaruva became the capital after the fall of Anuradhapura at the end of the 10th century AD. The greatest level of building activity occured between 1059 and 1207 AD under the ruler ship of Vijayabahu I, Parakramabahu I, and Nissanka Malla.
---
Ancient City of Sigiriya
(7.95 N 80.75 E) --
satellite image
The ruins of the capital built by the parricidal King Kassapa I (477-95) lie on steep slopes and at the summit of a granite peak standing some 370 m high (the Lion's Rock). A series of galleries and staircases emerging from the mouth of a gigantic lion constructed of bricks and plaster provide access to the site.
---
Sinharaja Forest Reserve
(6.35-6.43 N 80.35-80.57 E) --
satellite image
Sinharaja is a tropical lowland rain forest in Sri Lanka. Its name means "lion king" in the Sinhala language.
---
Sacred City of Kandy
(7.28 N 80.63 E) --
satellite image
This sacred Buddhist site, popularly known as the city of Senkadagalapura, was the last capital of the Sinhala kings whose patronage enabled the Dinahala culture to flourish for more than 2,500 years until the occupation of Sri Lanka by the British in 1815. It is also the site of the Temple of the Tooth Relic (the sacred tooth of the Buddha), which is a famous pilgrimage site.
---
Old Town of Galle and its fortifications
(6.021 N 80.219 E) --
satellite image
---
Golden Temple of Dambulla
(7.857 N 80.649 E)

Dambulla or the Golden Rock is a cave temple, which dates back to the 1st century BC.
---
Central Highlands of Sri Lanka
(7.452 N 80.802 E)
---
---
Back to the
World Heritage List
Lynn Salmon <>{
Last Updated: June 13, 2023