July 22-23, 1995 (Border Ranges)
It was a pleasant drive north from Casino through Kyogle and on to the Tweed Range Scenic Drive, a one-way 64km drive through Border Ranges National Park. I drove slowly and we reached the first stopping point at Bar Mountain around noon. There was a picnic area and after cooking lunch we decided to take the scenic walk to an overnight camp area. We had to repack all our gear from car-camp-mode to backpack-mode and it was nearly 2pm before we began walking.
Our various guidebooks and pamphlets had conflicting information about the walk. One said it was 6km, one said 3.5km, another 3 hours. Not sure which to believe we set off hoping to find the camp between 1.5 to 2 hours. After 2 hours had passed we started to believe that we must have missed the camp, and sure enough, we completed the loop and found ourselves back at the car park in 2.5 hours. Fortunately, we tried again and found the camp site on the second pass.
The camp site had the stump of an enormous old tree with some smaller tree stumps around it forming a wonderful table and chairs. We were all alone in the rain forest which gets very loud at night. We saw a possum and heard many bats. The wind seemed to be howling overhead, but it was calm where we were down inside the forest. It was a great spot. It's comforting knowing that there's nothing especially dangerous in the Australian bush. No bears. No mountain lions. No hyenas. No moose. Not even badgers or raccoons. We can sleep peacefully, knowing that all the racket is being made by animals who don't think we're dinner.
Back in Casino (Beef Capital) we had bought some prime rib-eye steak. I realize it was a good choice, as I cut it up in the dying light with my Swiss Army knife. Since we are going to have to cook in the dark, with slightly iffy technology, at least we know the meat will be good even if it it's raw! In fact it's very good.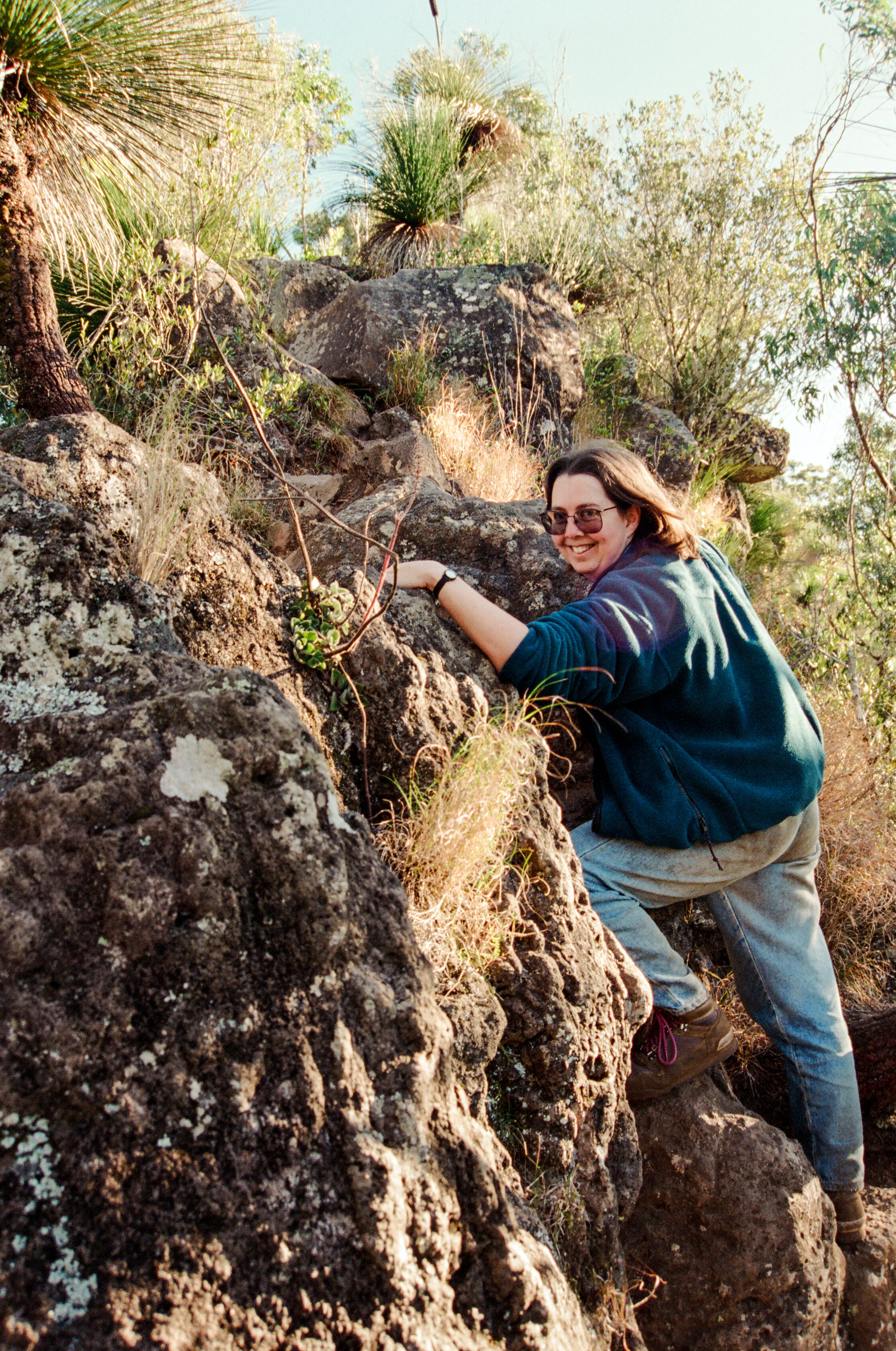 After taking a leisurely brekkie we walked out from camp and continued along the scenic drive to the next stopping point, the Blackbutts Picnic Area which has great views of the Tweed Valley and Mt. Warning. The Tweed Valley is an ancient eroded shield volcano's caldera with the remnant magma chamber (Mt. Warning) left after 20 million years of wind and water erosion.
After lunch we met some very friendly and outgoing people. Irene and Phillip Sivyer, Phillip's sister Nora and her husband Darryl, plus their friend Denis Lane. We fell into conversation with them for more than an hour. The conversation ranged over topics such as poker games run in elevators, astronomy, art conservation, and American Indians. We are invited to stay at Irene's place near Brisbane and have dinner next week.
We continued driving to our next stop at The Pinnacle which is advertised as one of the best short walks in Australia. It involves a climb out along a narrow sheer sided finger of volcanic rock. A sign at the start merely says, "steep--slippery when wet, be careful." We went perhaps half way and decided we couldn't make it out and back before dark and turned back. The sign said "1 hr return", which is clearly impossible for anything but a mountain goat. It was very steep, but definitely a worthwhile walk.
We drove most of the way to the end of the scenic drive and stopped for the evening at Forest Tops camp area. Not another soul was there and only two cars passed after we stopped for the night. We had a wonderful little camp area with picnic tables, toilets, tank water and a grassy clearing for our tent all to ourselves. We saw another possum and again heard bats all night, plus a cat-bird. I tried to build a fire, but failed, even with copious amounts of meths added as starter.
---
Lynn Garry Salmon <>{