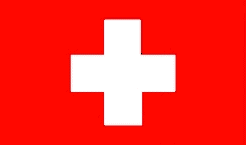 World Heritage Sites in Switzerland
---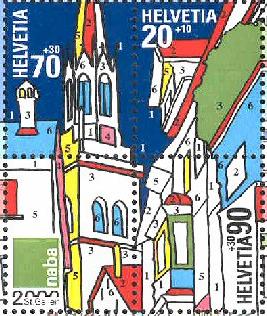 Abbey of St. Gall
(47.423 N 9.378 E)

The Abbey of St Gall is an example of a great Carolingian monastery, and reflects 12 centuries of continuous activity. Its library is one of the richest and oldest in the world and contains precious manuscripts such as the earliest-known architectural plan drawn on parchment.
---
Benedictine Convent of St. John at Mustair
(46.629 N 10.448 E)
---
Old City of Berne
(46.95 N 7.42 E)
---
Three Castles, Defensive Wall and Ramparts of the Market-town of Bellinzone
(46.20 N 9.03 E)
---
Swiss Alps: Jungfrau-Aletsch-Bietschhorn
(46.50 N 8.03 E)
---
Monte San Giorgio
(45.92 N 8.95 E)

The pyramid-shaped, wooded mountain (1,096 m above sea level), to the south of Lake Lugano in Canton Ticino is regarded as the best fossil record of marine life from the Triassic Period (245-230 million years ago).
---
Lavaux, Vineyard Terraces overlooking the Lake and the Alps
(46.492 N 6.746 E)
---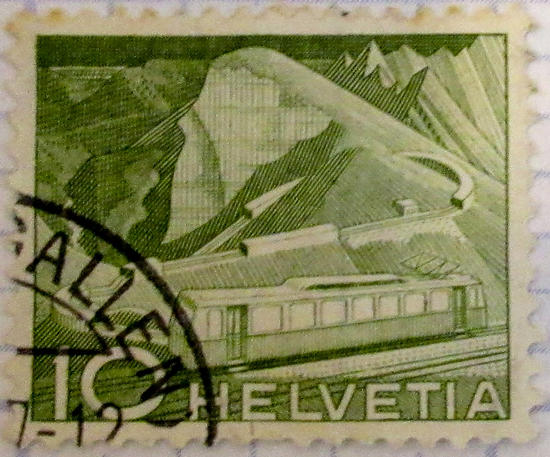 Rhaetian Railway in the Albula / Bernina Landscapes
(46.583 N 9.767 E)

Joint listing with Italy, two historic railway lines that cross the Swiss Alps through two passes. Opened in 1904, the Albula line in the northwest 67 km long. It features an impressive set of structures including 42 tunnels and covered galleries and 144 viaducts and bridges. The 61 km Bernina pass line features 13 tunnels and galleries and 52 viaducts and bridges.
---
Swiss Tectonic Arena Sardona
(46.917 N 9.25 E)
---
La Chaux-de-Fonds / Le Locle
(47.104 N 6.833 E)

Two towns situated close together in the remote Swiss Jura mountains comprise the watchmaking town-planning site. They were planned in the early 19th century focusing on this single industry.
---
Prehistoric Pile Dwellings Around the Alps
( multiple locations)

Joint listing with Austria, France, Germany, Italy, Slovenia, and Switzerland. This property includes 111 small individual sites with the remains of prehistoric pile-dwelling (or stilt house) settlements in and around the Alps built from around 5000 to 500 B.C.
---
Architectural Work of Le Corbusier
Multiple sites in: Argentina, Belgium, France, Germany, India, Japan, and Switzerland (multiple sites)
Chosen from the work of Le Corbusier, the 17 sites comprising this transnational serial property are spread over seven countries and are a testimonial to the invention of a new architectural language that made a break with the past. They were built over a period of a half-century, in the course of what Le Corbusier described as "patient research".
---
---
Back to the World Heritage List

Lynn Salmon <>{ Last updated: January 29, 2020