Pit 2: clearly another test was needed before attempting a pig. We enlarged the pit and ringed it with rocks. The second fire was stoked and burned for two hours. With a hot rock inside, a turkey was wrapped in silver beet leaves (no banana leaves could be obtained). The turkey was placed in the hot rocks, covered with pine needle insulation, and buried for 8 hours with sweet potatoes, corn, parsnips and potatoes and Theory 1 (insulation) was employed.
This was a great success. The turkey was cooked to perfection, falling off the bone, but still moist and juicy. Vegetables had about an 80% retrieval success. We're ready for a pig!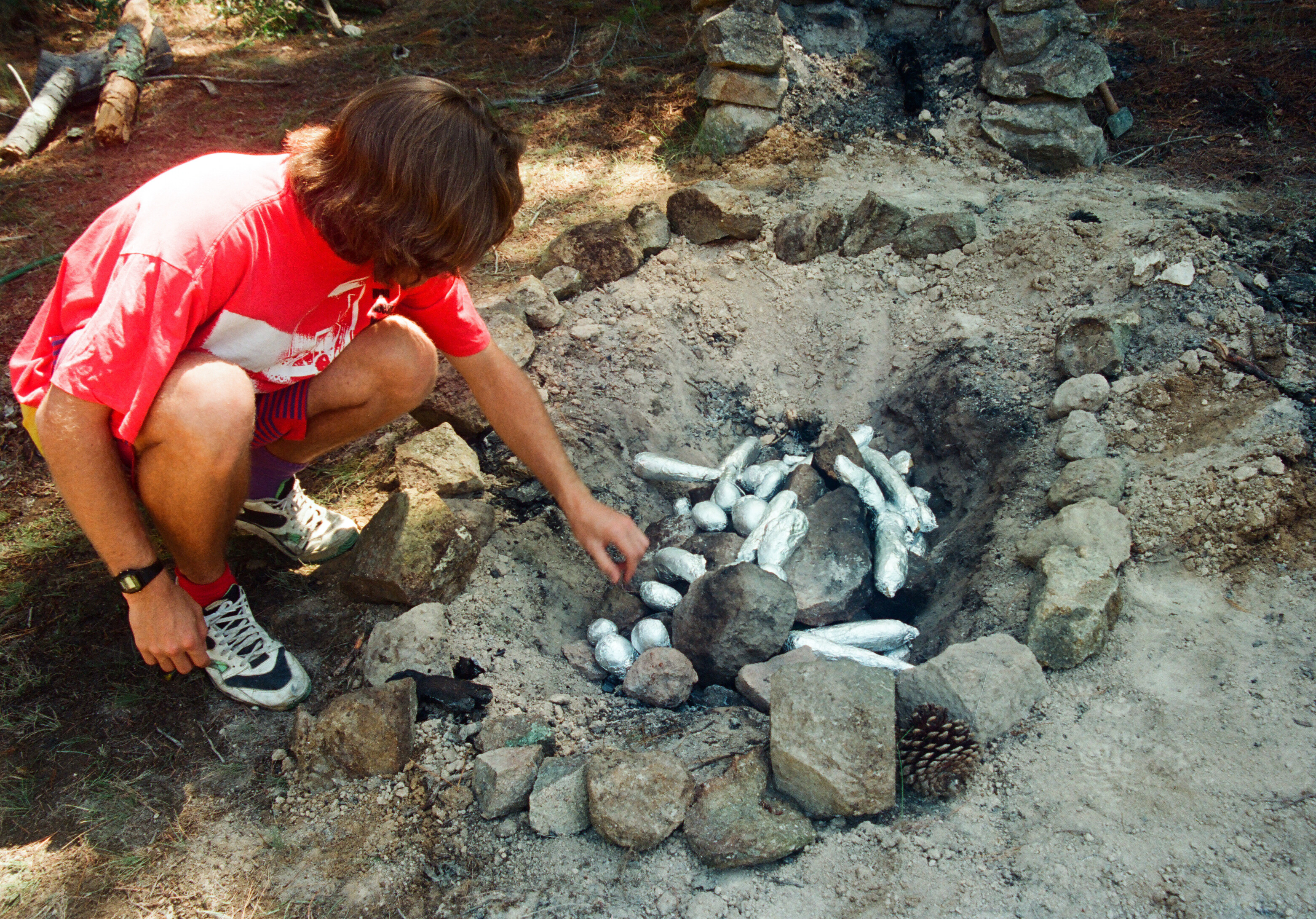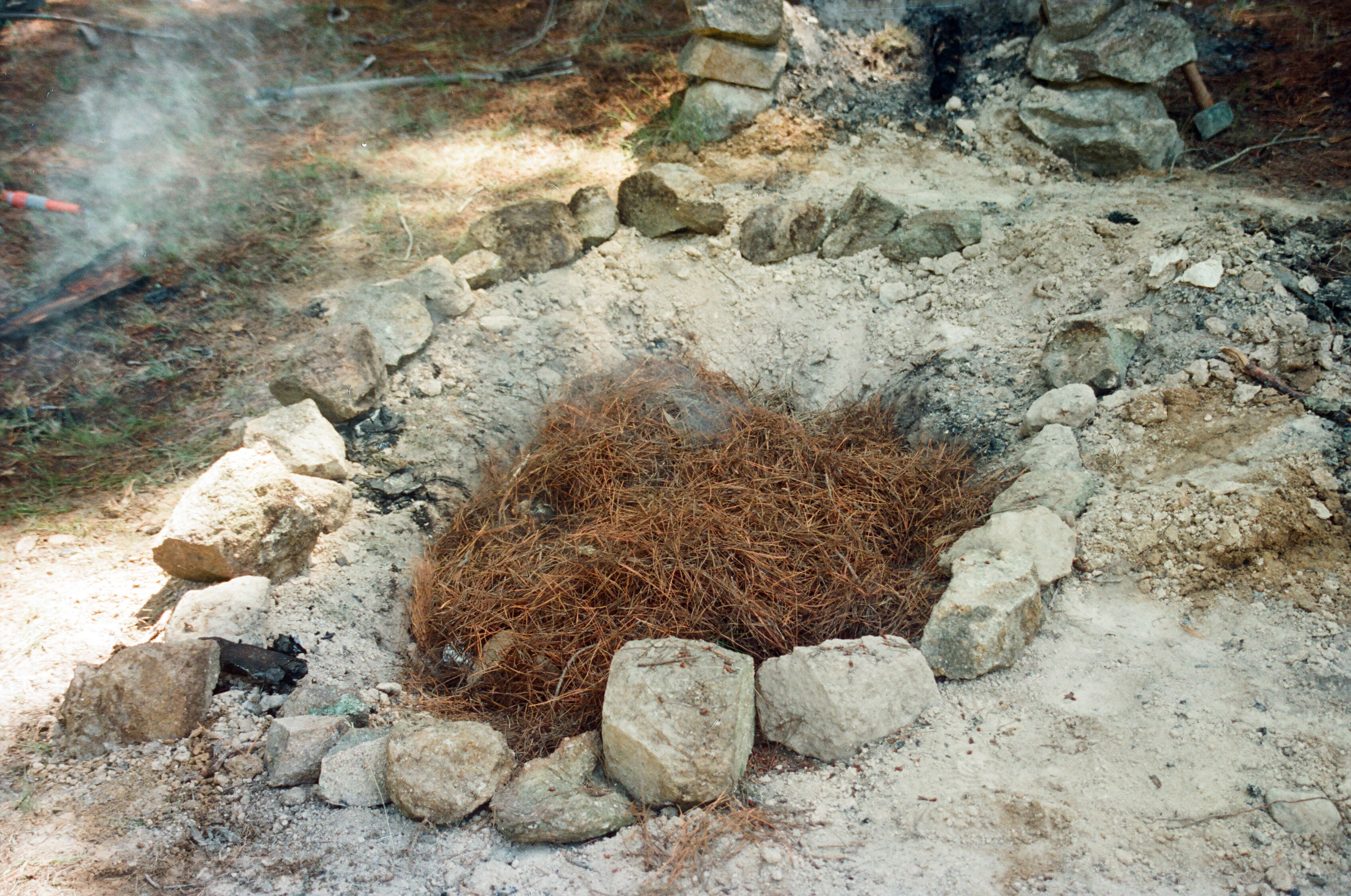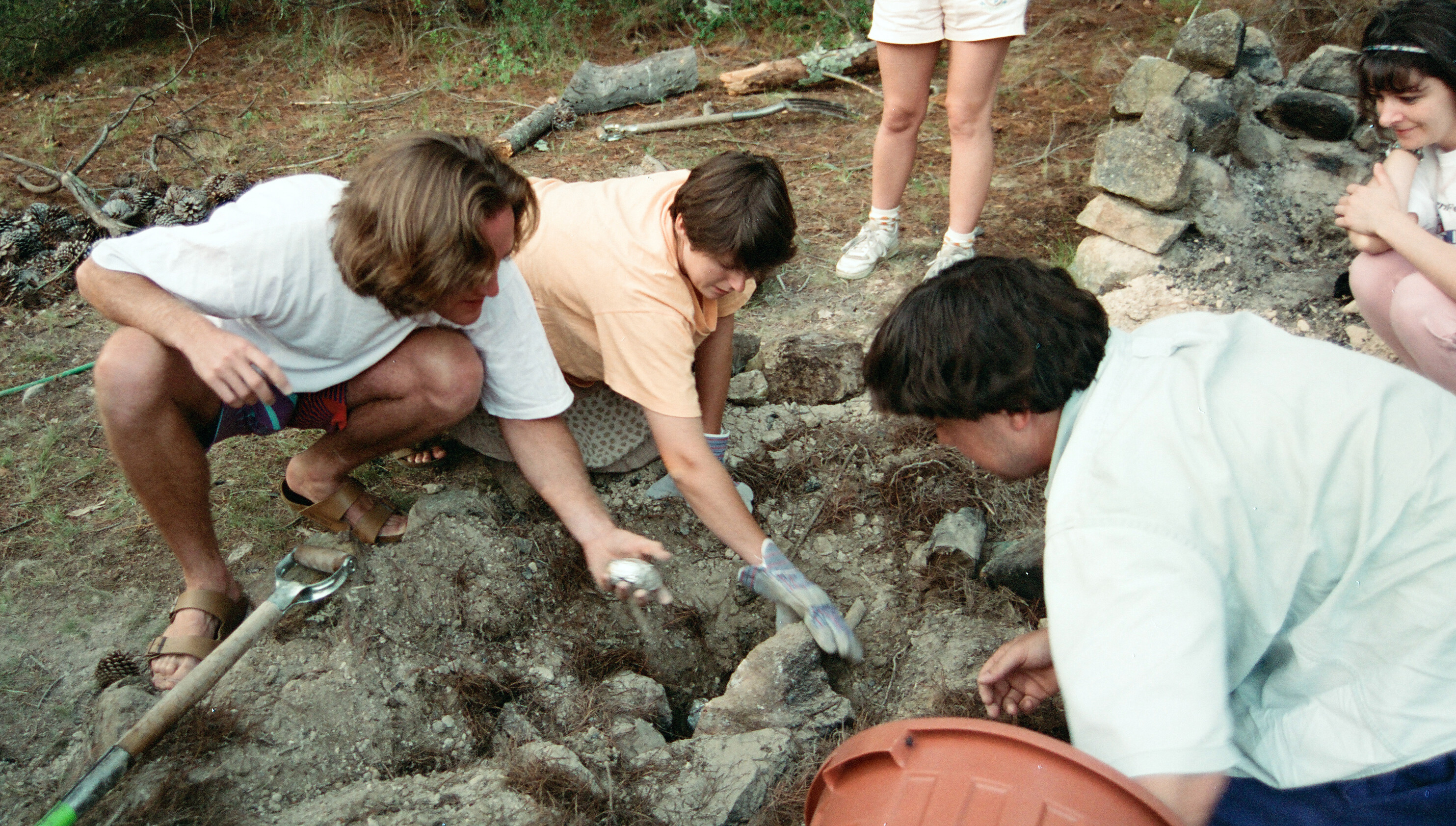 More Pit Cooking Photos
Warning We switched to video technology for recording Pit 3. MPEG movies may be a bit large and slow to retrieve.
Pit 3 The Pig: A pig weighing 13kg (28.66lbs) was prepared by rubbing it with mango and placing some onions and spices in the interior [MPEG]. The pig must have had a run in with Mr. Blonde, since it only had one ear. A REALLY BIG fire was built in the pit, and we heated granite rocks in it for 3 hours. We took three really hot rocks from the fire and stuck them inside the pig then wrapped it tightly with banana leaves [MPEG]. Putting the hot rocks inside the pig is really cool. Lots of smoke and sizzling sounds. Sort of like a giant "sizzling pork" dish at Full House.
Next the wrapped pig was placed in the pit with hot rocks and embers. A layer of grape vines, then pine needles was used to insulate the pit and you can see the steam coming up through the pine needles from the hot rock oven underneath [MPEG]. The whole thing was covered with dirt and cooked for 11 hours. [MPEG]. Around hour 8 we uncovered it to add vegetables. The pig appeared done at this point, but we covered it back up anyway.
When the guests arrived, we dug up dinner [MPEG1] and [MPEG2]. The pig was good, but the vegetables were not done. We are still working out how to cook the veggies (which need about 3 hours if the rocks are hot) with a pig/turkey/kangaroo that needs about 8-12 hours. Some suggestion are:
a) cook only vegetables that can't be overcooked (e.g., sweet potatoes, taro)
b) fire a second pit
c) put the veggies in at the beginning, but on top of a layer of insulation.
There were two extremely memorable parts: when the cooked pig was on the kitchen table, we were moving it around to try to make more space. As we moved the body, the head stuck over edge of the table....PLONK!! (sounds of screaming) pig head on floor, one grad student in need of sedatives. Joy of Cooking forgot to mention: "The roast is done when the head falls off under its own gravity."
The second "moment" came a few minutes later. Some dirt had gotten through the leaves and we were trying to figure out how to clean it. Lynn had the great idea to use the vacuum cleaner. But the highlight was when the tail got ripped from the body and sucked into the vacuum cleaner.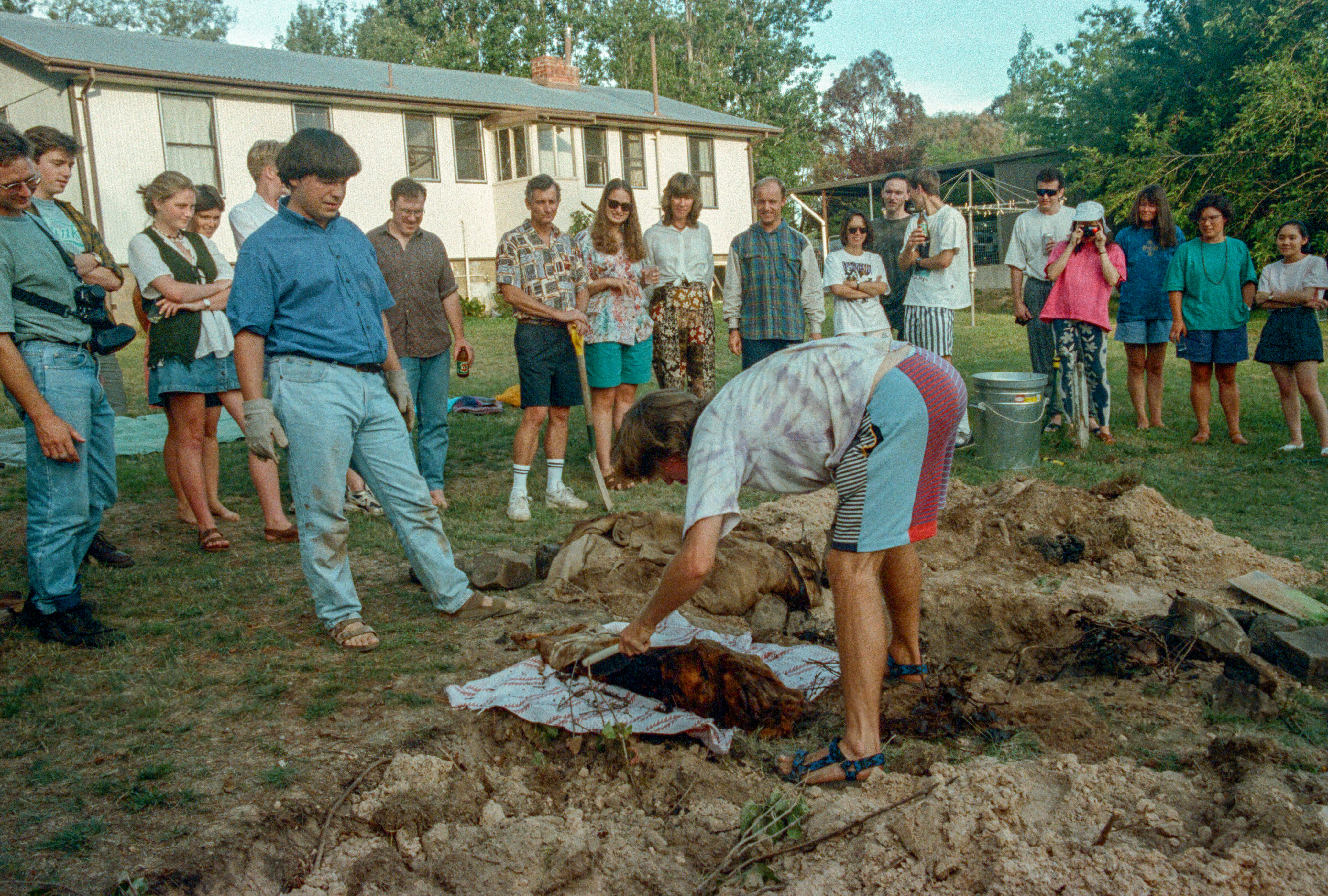 Otherwise it was a perfectly normal meal for about 16 people.
Pit 4 The Lamb.
Team Mumu moved on to the "two pit theory", one 12 hour pit sufficient to cook a 20kg (44lb) lamb, and one 6 hour pit for the 30kg (66lb) of vegetables. This worked exceptionally well, and both lamb and vegetables were done when the guests arrived. For additional variety, a stuffed chicken was placed inside the lamb.
Note that both John and Dave are wearing sandals while digging up dinner. Safety first :-)!
Pit Summary:
Pit 1: 10 Dec, 1994 - Leg-o-lamb Pit
Pit 2: 15 Dec, 1994 - Turkey Pit
Pit 3: 23 Dec, 1994 - Whole Pig Pit
Pit 4: 14 Jan, 1995 - Whole Lamb Pit
Pit 5: 25 Nov, 1995 - Whole Lamb 2
Pit 6: 8 Jun, 1996 - Stromlo Pit Feast Report
Pit 9: 5 Apr, 1997 - GOAT
Pit 10: 5 Oct, 1997 - Old World Goat
Pit 11: 25 Dec, 1997 - Nandu (Rhea)
Pit 12: 17 May, 1998 - Tuna
Pit 13: 20 June, 1998 - Gómez Ph.D. Pig
Pit 14: 19 July, 1998 - the Hangi
Pit 15: 20 Aug, 1998 - Rakata Island, Krakatau Group
Pit 16: 15 Apr, 1999 - Blizzard Pig
Pit 17: 31 Dec, 1999 - Millenium Ostrich
Pit 18: 24 Jun, 2000 - Deer
Pit 19: 18 Aug, 2002 - Santa Fe pit
Pit 20: 29 Oct, 2006 - Salmon Chanted Evening
Pit 21: 3 Dec, 2006 - Steamship of Buffalo stuffed with Alligator
Pit 22: 31 July, 2006 - Nilgai
Pit 23: 4 Nov, 2007 - Fish You Were Here
General info for succesful mumus:
Banana leaves are traditional, but aluminum foil seals out dirt better. We now wrap all our meat in heavy duty al foil and a wet cotton sheet.
Chicken wire is the key to retrieving a large, hot cooked animal from the ground. Otherwise, the meat tends to fall apart and be difficult to handle.
We've given up on the hot rock inside of the meat in favor of better wrapping to seal out dirt.
An excellent spice mix to rub inside a pig includes: salt, cinnamon, coriander, and cumin, plus several whole apples.
Overcooking has never been a problem. Use of a remote temperature sensor inside pit 19 indicated that the pig was done after approximately 4 hours. We left it for the full 8 hours scheduled (the party wasn't ready to start early). Fortunately, the mumu style of cooking keeps the meat moist and tender no matter how long we have left it buried.
A 30lb pig cooked for just under 6 hours was done to perfection.
---
---
Brought to you by Team Mumu